GALLERY JEANNE - prints and paperworks – Munich - Germany
original fine art prints & paperworks of the 20th century and Contemporary Art
OPENING HOURS: Tuesday – Thursday 11am – 5pm Uhr // Saturday by appointment
Gladly by appointment outside of our opening hours – use our contact form or give us a call  +49 (0)179 5233905.
We would kindly like to apologize for the inconvenience of our irregular opening hours in these times.
Gallery Jeanne is located in the centre of Munich in Germany
The art gallery has an impressive portfolio of original fine art prints & paperworks of the 20th century and Contemporary Art. In particular the gallery shows artworks of contemporary art and well-known international classical art of the  20th century. Please visit us in the Prannerstrasse 5 (in the center of Munich) only 300 meters from the "Marienplatz" with the city hall.  Furthermore, gallery Jeanne assumes the local and super-regional  servicing, specialist advice and managing for private collections.
21. – 25. Oktober 2021
Gallery Jeanne
is exhibiting at the Art Fair
"ART MODERN & Design" 
The art show for Modern and contemporary works took place at CHAMPS-ÉLYSÉES AVENUE in the heart of Paris in October 2021.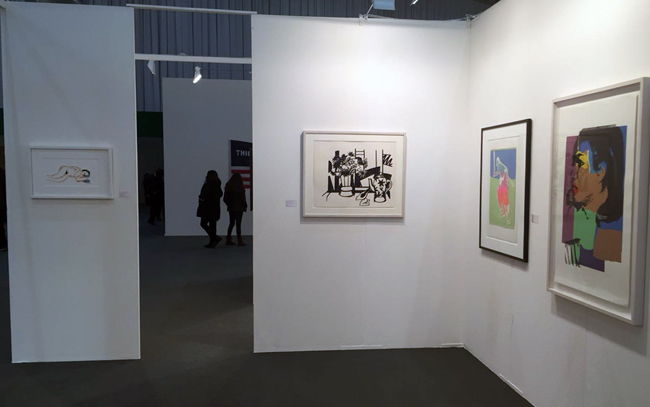 Gallery Jeanne in Munich has an international reputation as a gallery for prominent and internationally relevant artists.
Here you'll find pieces of art from various different times and of following periods:
ACTION PAINTING
COLOUR FIELD PAINTING
POP ART
Modern Realism / Pop Art
Abstract American Expressionism
Young British Artists
Surrealism
MODERN
CONTEMPORARY
POST WAR
Assemblage (Object Art)
Hyperrealism / Photorealism
Lettrismus
Nouveau  Réalisme
Classical Modernism
German Expressionism & Bauhaus
Photorealism
Moderne École de Paris
Nouvelle École de Paris
Realism – Sculpture