GALLERY JEANNE - prints and paperworks – Munich - Germany
original fine art prints & paperworks of the 20th century and Contemporary Art
Gallery Jeanne is located in the center of Munich (Germany)
OPENING HOURS: Tuesday – Thursday from 11 a.m. – 4 p.m.  –  and anytime by appointment and online (24/7)
Gladly by personal appointment  – outside of our opening hours – use our contact form or give us a WhatsApp/call +49 (0)179 5233905
The art gallery  "Galerie Jeanne"  in the center of munich  has an impressive portfolio of
original fine art prints  & paperworks of the 20th century and Contemporary Art
In particular the Gallery Jeanne in Munich represents since 41 years artworks of contemporary art and well-known international classical art of the 20th century.
In the "Galerie Jeanne", in an exclusive location right in the center of Munich, you will find a professional selection of prints, monotypes, drawings, print graphics and other art techniques on paper in a changing art presentations, international art fairs or gallery exhibitions.
Furthermore:  "Gallery Jeanne" assumes the local and super-regional  servicing, specialist advice and managing  for private collections.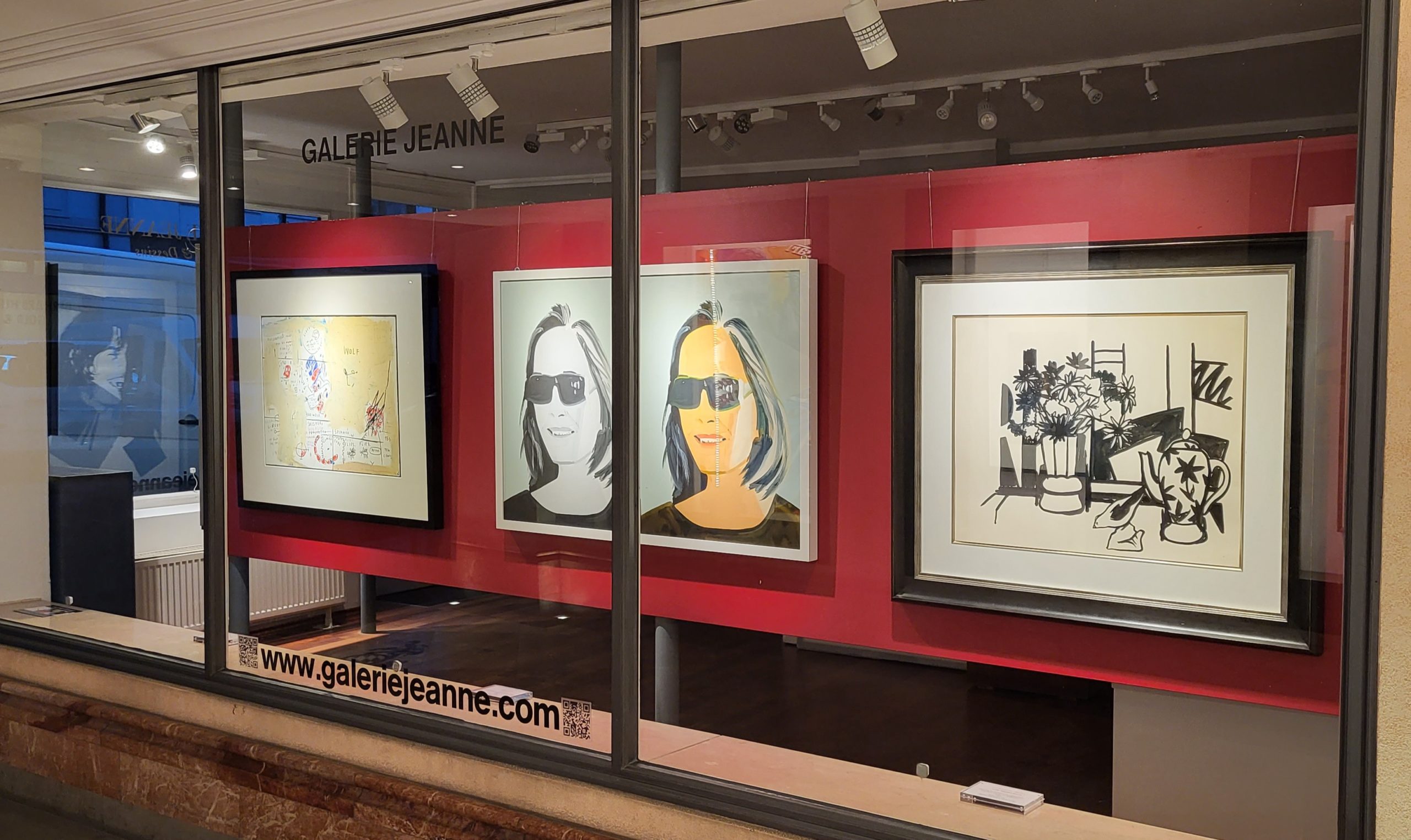 Gallery Jeanne in Munich (Germany)  has an international reputation as a gallery for prominent and internationally relevant artists.
Here you'll find works of art from various different times and of following periods:
ACTION PAINTING
COLOUR FIELD PAINTING
POP ART
Modern Realism / Pop Art
Abstract American Expressionism
IMPRESSIONISM
Young British Artists
Surrealism
FAUVISM
Minimalism
MODERN
CONTEMPORARY
POST WAR
ASSEMBLAGE (Object Art)
HYPERREALISM / PHOTOREALISM
LAND ART
LETTRISM
NEO EXPRESSIONISM
NOUVEAU RÉALISME
GRAFFITI ART
POST-IMPRESSIONISM
NEO-IMPRESSIONISM
CLASSICAL MODERNISM
GERMAN EXPRESSIONISM & Bauhaus
PHOTOREALISM
MODERNE ÉCOLE DE PARIS
NFT – Non-Fungible Token
NOUVELLE ÉCOLE DE PARIS
REALISM – SCULPTURE
Emotional Abstraction