GALLERY JEANNE - prints and paperworks – Munich - Germany
original fine art prints & paperworks of the 20th century and contemporary art
Serge Poliakoff  (1900-1969)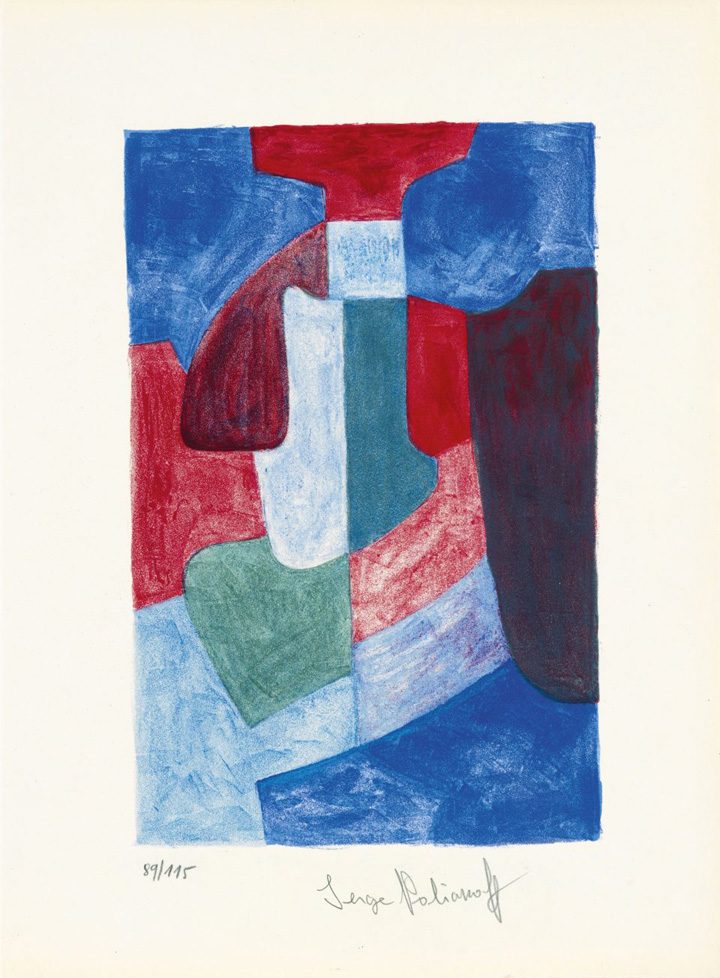 Serge Poliakoff
'Composition bleue,verte, rouge' from 'L'été'
Color lithograph on Arches handmade paper
1978
size 38 x 28 cm / 15 x 11 inches
Edition 115
signed and numbered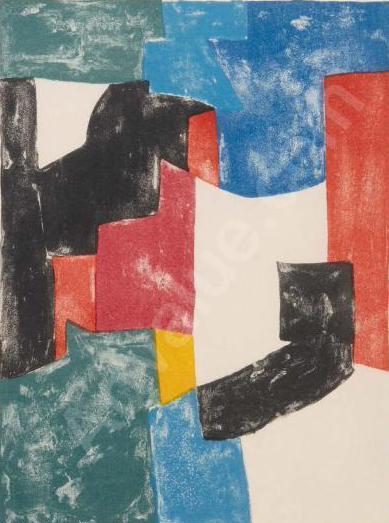 Serge Poliakoff
'Composition noire, bleue et rouge'
Lithograph on handmade paper
1962
about 38 x 28 cm
edition  250
signed and numbered
SERGE POLIAKOFF (1900-1969)
ARTIST INFO
Serge Poliakoff (January 8, 1900 in Moscow – October 1969)
discovered art at the age of 14. It's not far from drawing lessons to the first landscape studies.
After years in the army, Serge Poliakoff finds a new home in Paris. As a musician he can live there.
From 1929, the Académie de la Grande-Chaumière became his painting school. Group exhibitions follow. From 1933 Poliakoff studied at the Académie Frochot with Derf and Friesz. In 1935 he went to London with his French partner and attended the Grosvenor School of Art and the Slade School of Art. The artefacts in the British Museum became his school.
The years 1937-1939 in Paris were of decisive importance for Serge Poliakoff's artistic career
From here, Poliakoff will become an important pacesetter at the École de Paris. Here the encounters with the artist friends Wassily Kandinsky, who promotes abstraction in Poliakoff's works, with Sonia Delaunay and Robert Delaunay, who make his palette more emotional, and above all with Otto Freundlich, who strongly influences his style and composition.
From then on, Poliakoff painted abstract paintings.
From 1946 the artist's palette became almost monochrome in soft colors. His first lithograph is printed and opens up a new medium for Serge Poliakoff.
It was the year 1952 that Serge Poliakoff became independent as a painter
He gets his first gallery contract and can give up the music that has fed his family up to now.
His encounter with the works of Malevitch changed his palette again – even with negated color an expression is intensive and possible. His work will be shown overseas for the first time. He was enthusiastically received in New York. In 1953-1954 the gazettes were enthusiastic about the artist and his exhibitions were well attended.
The 1956 Lissone Prize and a monograph on Serge Poliakoff speak for themselves.
In 1957 Poliakoff ventured into etching for the first time. In the following years he travels with his exhibitions through European museums and inspires with individual exhibitions. Three years later, the Kunsthalle Bern shows over 130 works by the artist.
In 1958, Serge Poliakoff has international solo exhibitions in museums in France, Germany and England.
In 1966, Poliakoff was awarded the Grand Prize at the Menton Biennial. A retrospective at the Maison de la Caen will be his last exhibition in his lifetime.
Serge Poliakoff dies in 1969.
Feel free to contact us if you have any work by the artist 
SERGE POLIAKOFF
looking for or want to buy.
For further positions by SERGE POLIAKOFF in the gallery Jeanne in Munich
For further information or if you have any questions please do not hesitate to contact us.
Please use our contact form below, call us  +49 (0)179 5233905 
Adress: GALERIE JEANNE – Graphik & Dessins, Prannerstrasse 5 (back side: Hotel Bayerischer Hof), 80333 Munich – GERMANY
(2700 characters, H.W.)