GALLERY JEANNE - prints and paperworks – Munich - Germany
original fine art prints & paperworks of the 20th century and contemporary art
 WAYNE THIEBAUD  (1920 – 2021)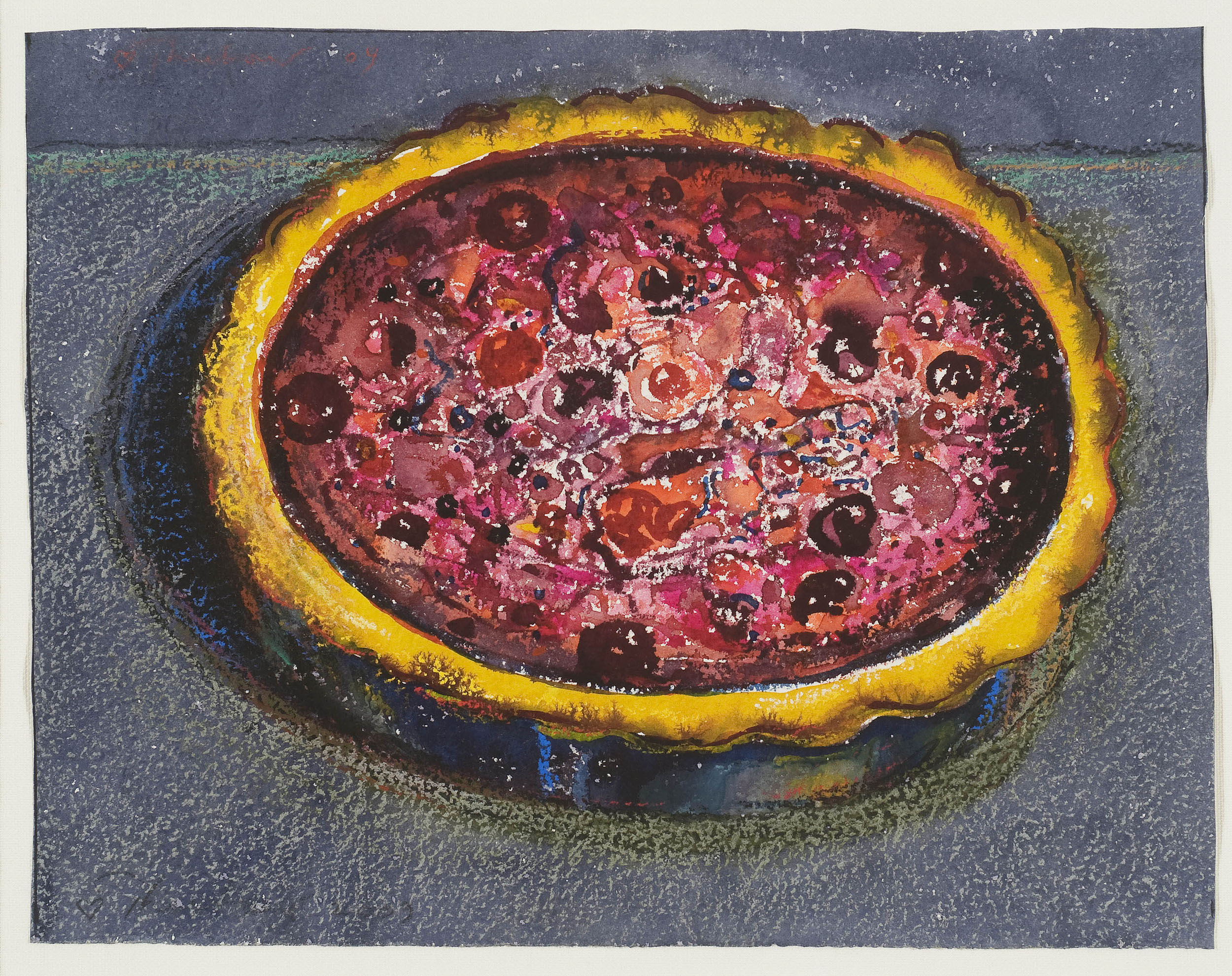 Wayne Thiebaud
'Berry Tarte'
gouache and pastel on paper
2009
size 10 1/8  x 13 in./  25,7 x 33 cm
signed and dated lower left
SOLD OUT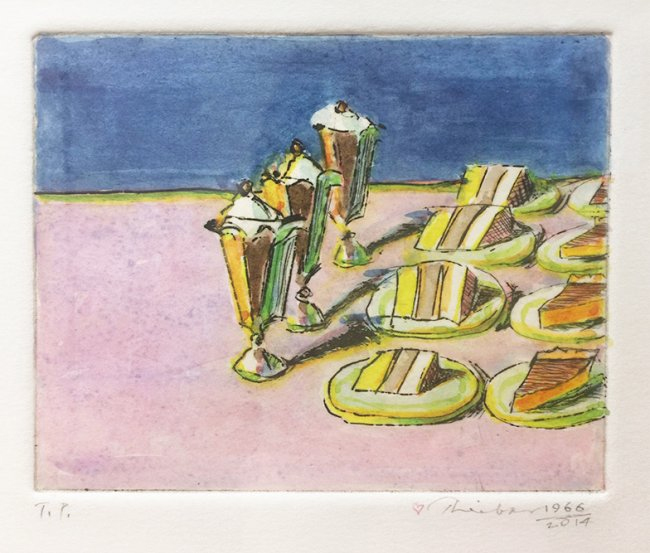 Wayne Thiebaud
Three Rows of Dessert
1966/2014
Aquarell over etching on deckle edged handmade paper
sheet size 26 x 27.9 cm/ picture size 10 x 12.5 cm
signed and dated at the lower right
inscribed' T.P.' (Trial Proof) at lower left
WAYNE THIEBAUD (1920 - 2021)
ARTIST INFO
Wayne Thiebaud (1920 in Mesa – 2021 in Sacramento, California) was an American artist and one of the most important representatives of American Pop Art
He caricatured classmates and teachers and was already working as a student during the summer holidays in the animation department as an animator and assistant draftsman at Walt Disney Studios (1936). From 1938 to 1949 he was a full-time designer and cartoonist.
During World War II (1942-1945), Thiebaud served in the United States Army Air Forces. He started out as a commercial artist and studied at San José State University (Bachelor of Arts). In the early 1950s he attended California State University, Sacramento. Here he was also a lecturer at Sacramento City College in 1961 and from 1960 to 1976 a lecturer at the University of California, Davis – where Thiebaud was still a preferred lecturer as an emeritus even in old age. One of his early students was, among others, Mel Ramos. In New York, Wayne Thiebaud met the art scene of the 1950s with Franz Kline, Willem de Kooning and Elaine de Kooning.
The American painter Wayne Thiebaud, who has been living in the States for some time in represented by all major museums and collections, the Fondation Beyeler is currently working on the first RETROSPECTIVE in the dedicated to German-speaking countries.
His still lifes with candy influenced many artists of the pop art movement in the States and internationally
His delicacies and sweets such as slices of cake and ice cream cones are eloquent testimony to his artistic style. Like Edward Hopper, Thiebaud's work became an interpretation of a particular, shall we say, American sensibility. His sweet still lifes absorb the abundance of the so-called "American way of life". In his color palette, Thiebaud creates his own atmosphere, which always contains a portion of irony – this is where the real and the imagined world meet.
"From gumball machines to landscapes of San Francisco, he has transformed everyday life into an iconic statement of color and form," said Gavin Newsom, California Governor, in honoring Wayne Thiebaud's artistic work.
Wayne Thiebaud exhibitions – a selection
1951 Crocker Art Museum in Sacramento
1960 Wayne Thiebaud's first solo exhibition at the San Francisco Museum of Modern Art
1972 Documenta 5 in Kassel
1981 Walker Art Center in Minneapolis
1985 the San Francisco Museum of Modern Art.
1967 and 1997 São Paulo Biennial
2007 / 2008 to 2009 / 2010 traveling exhibitions entitled "Wayne Thiebaud: 70 Years of Painting", at the Pasadena Museum of California Art and at the Laguna Art Museum, in Laguna Beach
…
2023 –  until May 21, 2023 Fondation Beyeler "Wayne Thiebaud" –  first RETROSPECTIVE in the dedicated to German-speaking countries
Awards for Wayne Thiebaud
1961: Scholastic Art Prize
1985: American Academy of Arts and Letters
1987: Elected Member (NA) of the National Academy of Design
1988: Elected a member of the American Academy of Arts and Sciences
1994: National Medal of Arts – the most important award of the American Congress
1998: Honorary Doctor of Fine Arts from California State University, Sacramento
For further information or if you have any questions please do not hesitate to contact us.
Please use our contact form below, call us  +49 (0)179 5233905 
Adress: GALERIE JEANNE – Graphik & Dessins, Prannerstrasse 5 (back side: Hotel Bayerischer Hof), 80333 Munich – GERMANY