GALLERY JEANNE - prints and paperworks – Munich - Germany
original fine art prints & paperworks of the 20th century and contemporary art
Roy Lichtenstein (1923-1997)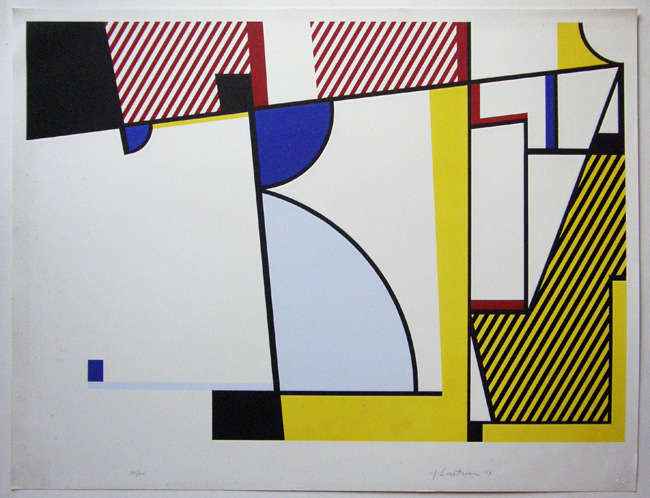 Roy Lichtenstein
'Bull V'
Lithograph, screen print and line cut on Arjomari paper
1973
size: 68 x 88,5 cm
Edition 100
signed and numbered
Corlett 120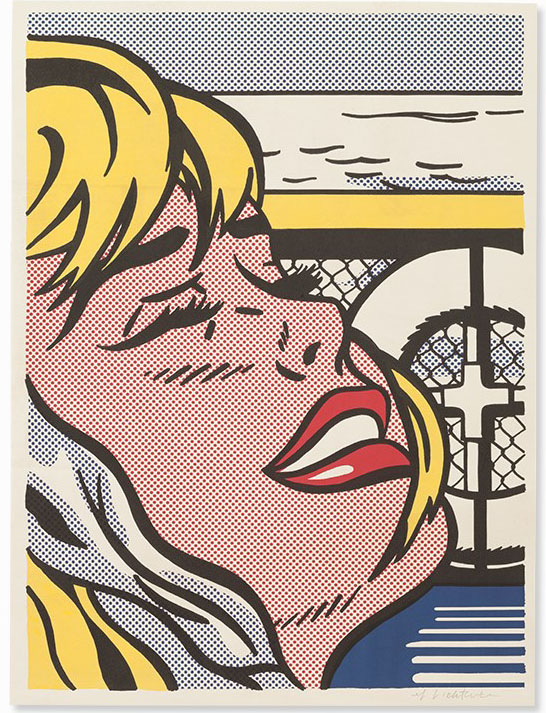 Roy Lichtenstein
'Shipboard Girl'
Lithograph, screen print on paper
1965
pressure size 66 x 48,5 cm/ sheet size 69 x 51,5 cm
unknown edition
published by Leo Castelli, NY
Freshly colored print in perfect condition !
Signed lower right
Corlett II.6
Roy Lichtenstein (1923-1997)
ARTIST INFO
Roy Lichtenstein (born 1923 in Manhatten – 1997)) was the leading Pop Art-Artist in the second half of the 20th century
The American painter and graphic artist Roy Lichtenstein based his works on the visual language of his time:
which became more emblematic and colorful through advertising that was becoming more conspicuous in everyday life and the popular comic culture.
Roy Lichtenstein is one of the most important representatives of Pop Art worldwide
As a "pioneer of Pop Art", Roy Lichtenstein, like Andy Warhol, Jasper Johns and James Rosenquist, has been influenced by contemporary popular culture since the 1950s. In the Pop Art movement, young avant-garde artists opposed Abstract Expressionism and thus an established art of their time.
Roy Lichtenstein, born in Manhatten in 1923, began his art studies in 1940, which he interrupted in 1943 to serve in the army as a US soldier in Europe. In 1946 he finished his art studies at the "Ohio State" and began teaching drawing. In 1949 he completed the "Master of Fine Arts". After a first exhibition in New York, he accepted a teaching position at the State University of New York in 1958 and was also a teacher at Rutgers University until 1964.
Initially, the artist was inspired by Cubism. He included "finished works" of his predecessors in his pool of ideas and transferred them to Pop Art
Like Andy Warhol, Roy Lichtenstein wanted to break with traditional art of the mid-20th century and respond to the consumer culture of the 1960s.
In his works there are increasingly comic characters like Popeye or Walt Disney characters, through whom Lichtenstein interpreted the behavior of people. In 1963 Roy Lichtenstein began in his New York studio with works that reinterpreted the DC comic universe in terms of his world. He celebrated great success with works like "Whaam!" Or "Drowning Girl". Here it becomes evident that the Japanese woodcut of a Katsushika Hokusai flows into his technique. In 1964, the US magazine LIFE cynically asked whether Lichtenstein was the worst contemporary artist in the United State
The contemporaries Roy Lichtenstein recognized themselves and their sense of time in the artist's works as well as in those of Warhol, and so the demand for works of Pop Art grew.
Roy Lichtenstein's works mostly have thick lines, bright play of colors and often also point backgrounds, which makes his inspiration from the printing techniques recognizable.
In 1979 Roy Lichtenstein was accepted into the renowned "American Academy of Arts and Science". Among his late sculptures there is, for example, "Barcelona Head" (1992), a sculpture that the artist designed for the Olympic Games in Barcelona.
Roy Lichtenstein – Honors and Prizes (a selection)
In 1964, the first museum retrospective in Pasadena was dedicated to Roy Lichtenstein.
In 1989 his work "Torpedo … Los!" Was auctioned for 5.5 million US dollars.
His complete oeuvre was awarded the "Kyoto Prize" in 1995.
Roy Lichtenstein died in 1997, leaving behind a work that has decisively influenced and shaped the Pop Art movement.
In Roy Lichtenstein's works, which are based on comics, a contemporary interpretation of the "American way of life" can be found in a colorful imagery.
Roy Lichtenstein's works can be found in large collections and museums around the world
San Francisco Museum of Modern Art
Solomon R. Guggenheim Museum, New York
Museum Ludwig, Cologne – Europe's largest Pop Art collection is shown here
3561 characters, H.W.
You are welcome to contact us if you are looking for or want to purchase works of art by the artist Roy Lichtenstein.
For further positions by Roy Lichtenstein in the Galerie Jeanne
For further information or if you have any questions please do not hesitate to contact us.
Please use our contact form below, call us  +49 (0)179 5233905 
Adress: GALERIE JEANNE – Graphik & Dessins, Prannerstrasse 5 (back side: Hotel Bayerischer Hof), 80333 Munich – GERMANY