GALLERY JEANNE - prints and paperworks – Munich - Germany
original fine art prints & paperworks of the 20th century and contemporary art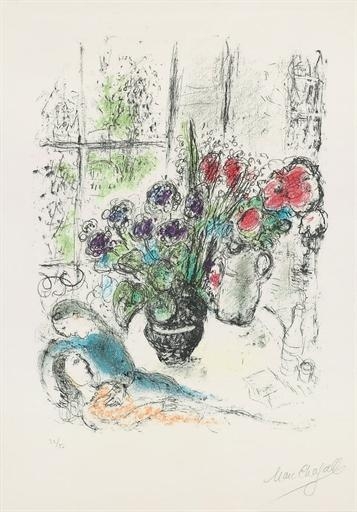 Marc Chagall
Bouquet Aux Amoureux'
Lithograph on handmade paper
1976
size 84 x 58 cm
Edition 50
Signed by the artist and numbered
SOLD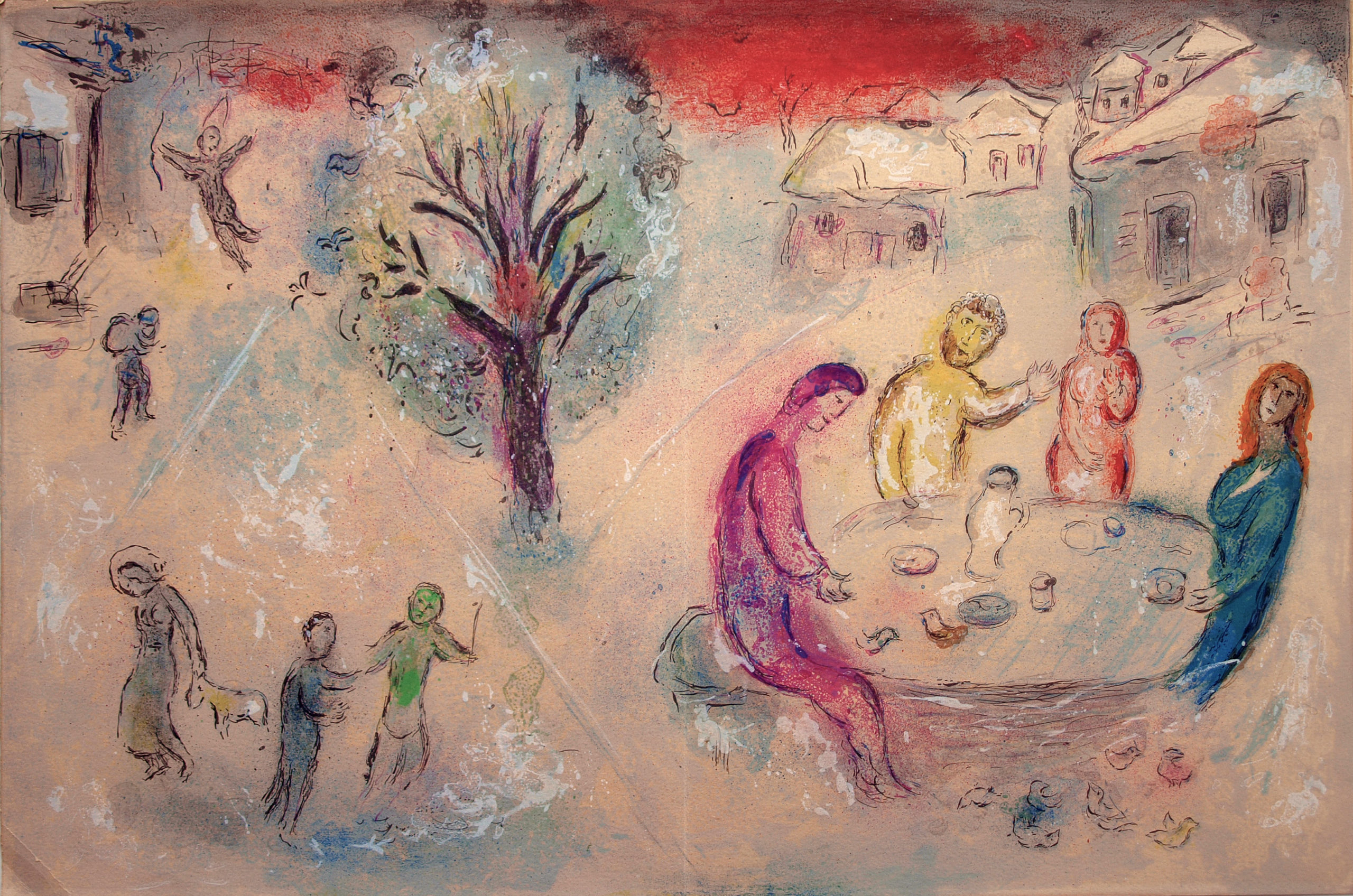 Marc Chagall
'Daphne et Chloé – Le Repas Chez Dryas' 1961
(Daphne and Chloe is one of the best top-quality Graphic Works of Chagall)
Lithograph on J Perrigot Arches paper
1961
size: 54 x 75 cm
Edition 60
Signed by the artist and numbered
Mourlot 334
SOLD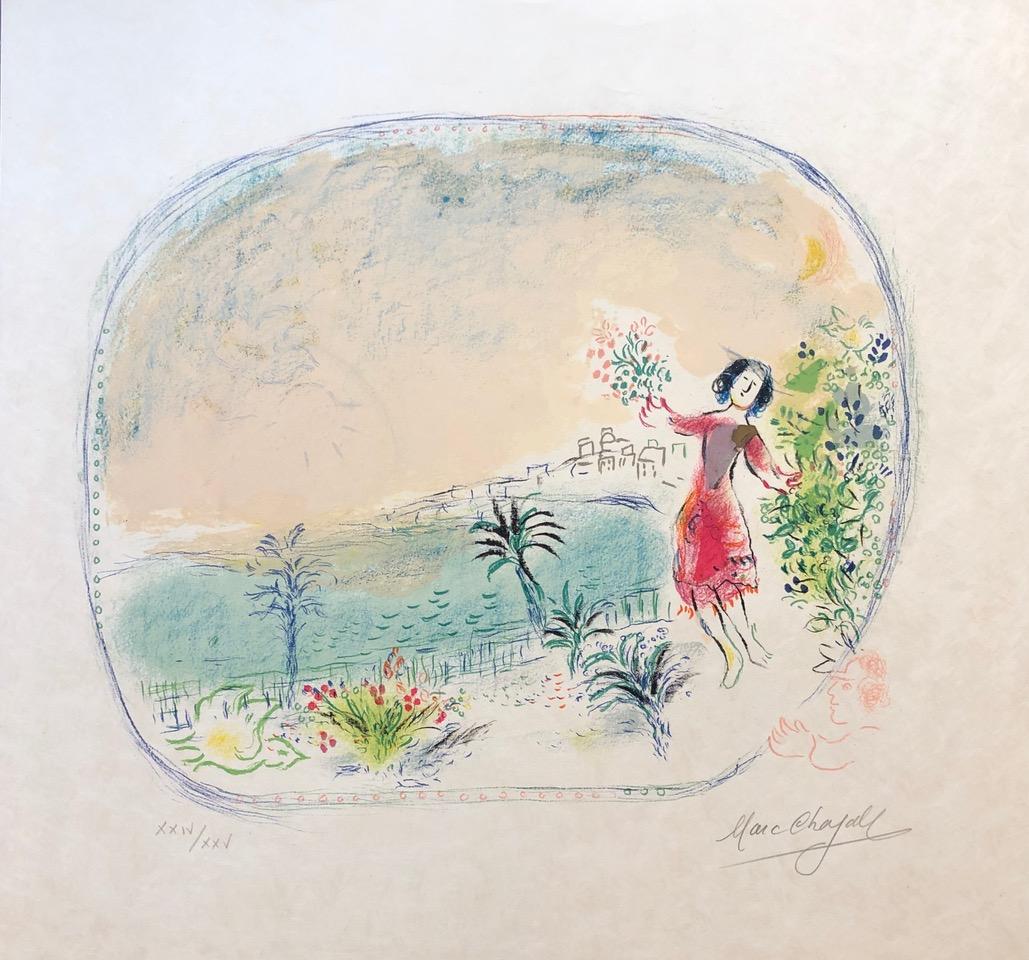 Marc Chagall
La Baie des Anges
Lithograph on hand-made Japanese paper
1967
size: 51 x 54 cm
Edition 50 + XXV, this is XXIV
Signed by the artist and numbered
SOLD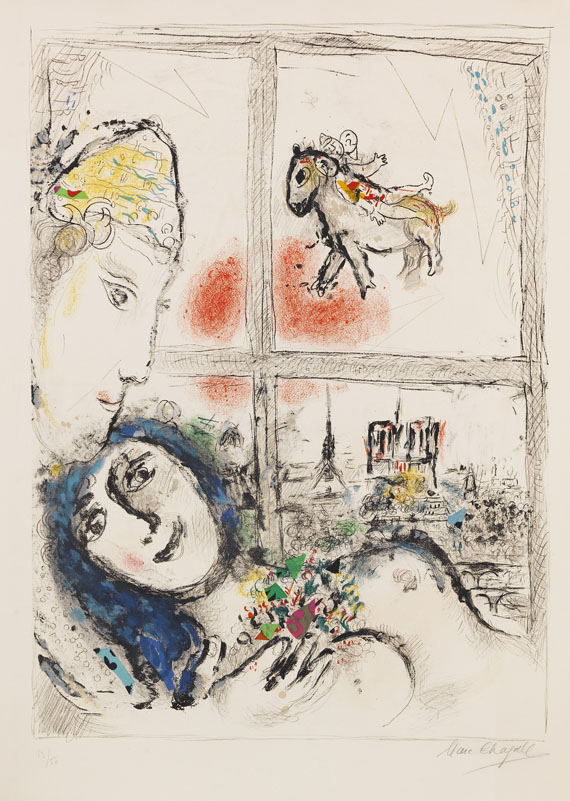 Marc Chagall
'Paris de la fenetre'
Lithograph on handmade paper
1969/70
size 84 x 58 cm
Edition 50
Signed by the artist and numbered
MARC CHAGALL (1887-1985)
ARTIST INFO
Marc Chagall
born in Liosno / Vitebsk district (Russia / Belarus) on July 7, 1887 – died on March 28, 1985 in Saint-Paul-de-Vence (France)
The French-Russian-Jewish artist (painter and graphic artist) Marc Chagall
… begins his artistic training in 1907. We found him in Paris as early as 1910, where he picked up the mood of the city and the styles of the artists. As a unique artist, Chagall later saw himself more and more as a painter of the Paris School
Marc Chagall studied among other things at the Petersburg Academy with Leo Bakst and traveled through France, Russia and America. Finally he found his new home in St. Paul de Vence (in France).
As a loner artist, Chagall left behind a unique life's work
In 1910 the artist was impressed by the work of Henri Matisse, he came across Fauvism and Cubism when he visited the Salon de Indépandants. This is where styles come to the fore that will shape his work for decades.
In 1913 Chagall met the art dealer Herwarth Walden in Paris and was presented to the public with his first exhibition a year later.
In 1919 Marc Chagall ran an art school in his Russian homeland, Vitebsk.
We found the artist again in Berlin in 1920, where he took part in a joint exhibition of Russian artists in 1922.
The art dealer Paul Cassirer added Marc Chagall to his program and in 1922 brought out a series of etchings under the title "My Life". This was followed in Paris in 1923 by book illustrations for Nikolai Gogol's "Die toten Seelen" for Ambroise Vollard. The illustration and its series of images will shape the artist's work well into old age.
Marc Chagall is one of the most important artists of Classical Modernism. The graphic artist and painter achieved great popularity in the art world during his lifetime
His works are expressionistic in their narrative structure and show us a "painter-poet". As a French artist, Chagall remains loyal to Russian folk art and combines it with "Jewish mythology". Chagall remained caught up in the subject throughout his Russian homeland and its fairytale world.
In his dream worlds you will find winged creatures, rich flower bouquets and floating people and objects that are sometimes allowed to stand on their heads. Mythological animals, the crescent moon, the Eiffel Tower, circus tents or bridges as symbols of Paris appear again and again in his oeuvre.
Marc Chagall created a wealth of motif worlds
Recurring and newly interpreted motifs become metaphors in his works and override the laws of gravity.
Perspectives are possible, but they can also be exceeded marginally. The spatially impossible becomes possible in its color harmonies and gives each individual work a unique, new and radiant statement. Up until old age, Chagall developed new narrative strands in his usual narrative style.
The works of Marc Chagall presented in the Galerie Jeanne in Munich are popular with collectors and are still sought after today. With his unique world of images, Marc Chagall is one of the most important painters and graphic artists of the 20th century.
Marc Chagall's work can be found in numerous large collections and museums around the world. Probably the largest Chagall collection is in the Chagall Museum in Nice!
Marc Chagall was a Franco-Russian painter who made Paris the center of his art.
In the Jeanne Gallery in Munich, collectors will find the popular, signed and numbered works on paper by Marc Chagall:
– "Bouquet Aux Amoureux' "as a lithograph on laid paper from 1976;
– 'Daphne et Chloé – Le Repas Chez Dryas" (Daphne and Chloe is one of the most valuable graphic works by Chagall)
a lithograph on Arches vellum paper from 1961;
– La Baie des Anges a lithograph on handmade Japanese paper from
(3472 characters, H.W.)
For further informations and works by Marc Chagall or if you have any questions please do not hesitate to contact us.
You are very welcome to contact us via our Contact Form below, call us  +49 (0)179 5233905 
Adress: GALERIE JEANNE – Graphik & Dessins, Prannerstrasse 5 (back side: Hotel Bayerischer Hof), 80333 Munich – GERMANY