GALLERY JEANNE - prints and paperworks – Munich - Germany
original fine art prints & paperworks of the 20th century and contemporary art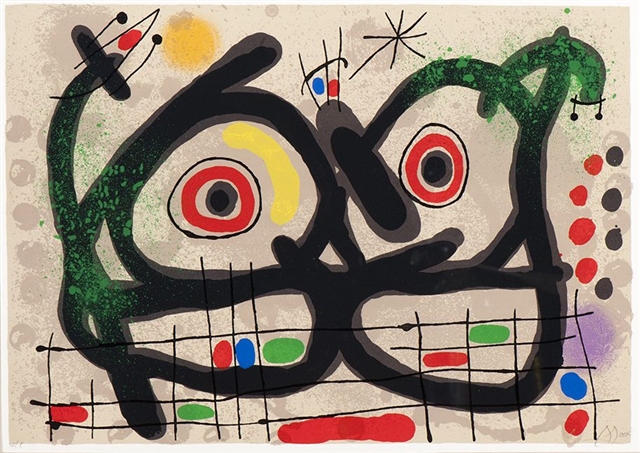 JOAN MIRÓ
Le lezard aux plumes d'or, 1967
Color lithograph on parchment paper
34 x 48 cm
edition of romain 30
signed and numbered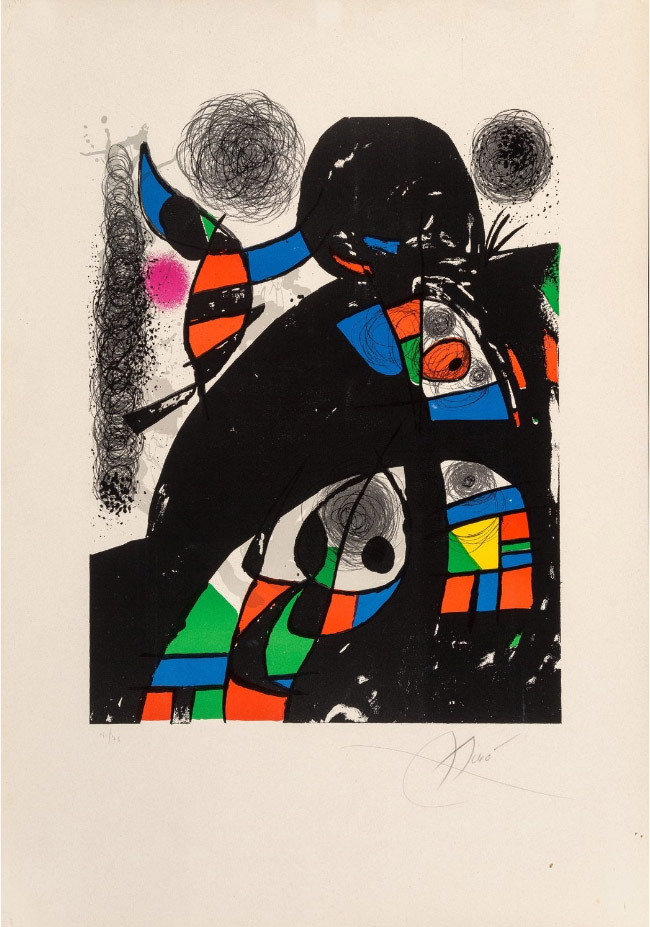 JOAN MIRÒ
San Lazzaro et ses amis'
Color lithograph on Arches handmade paper
1975
75 x 52 cm
Edition 75 + XXX
signed and numbered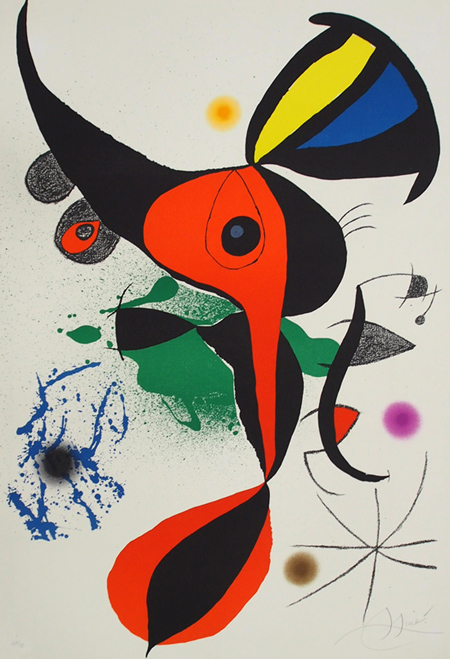 JOAN MIRÓ
Oda a Joan Miró
Lithograph in colours on Guarro paper
1973
40 9/10 × 30 3/10 in
104 × 77 cm
Edition of 75
signed and numbered
SOLD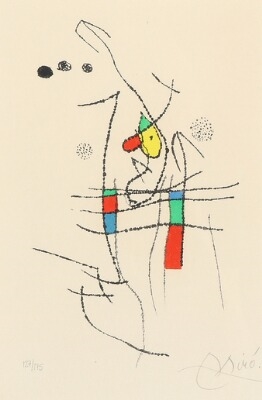 JOAN MIRÓ
La Spirale
from "Miranda la Spirale"
etching and aquatint
1979
size 38 x 28 cm
Edition 175
signed and numbered
SOLD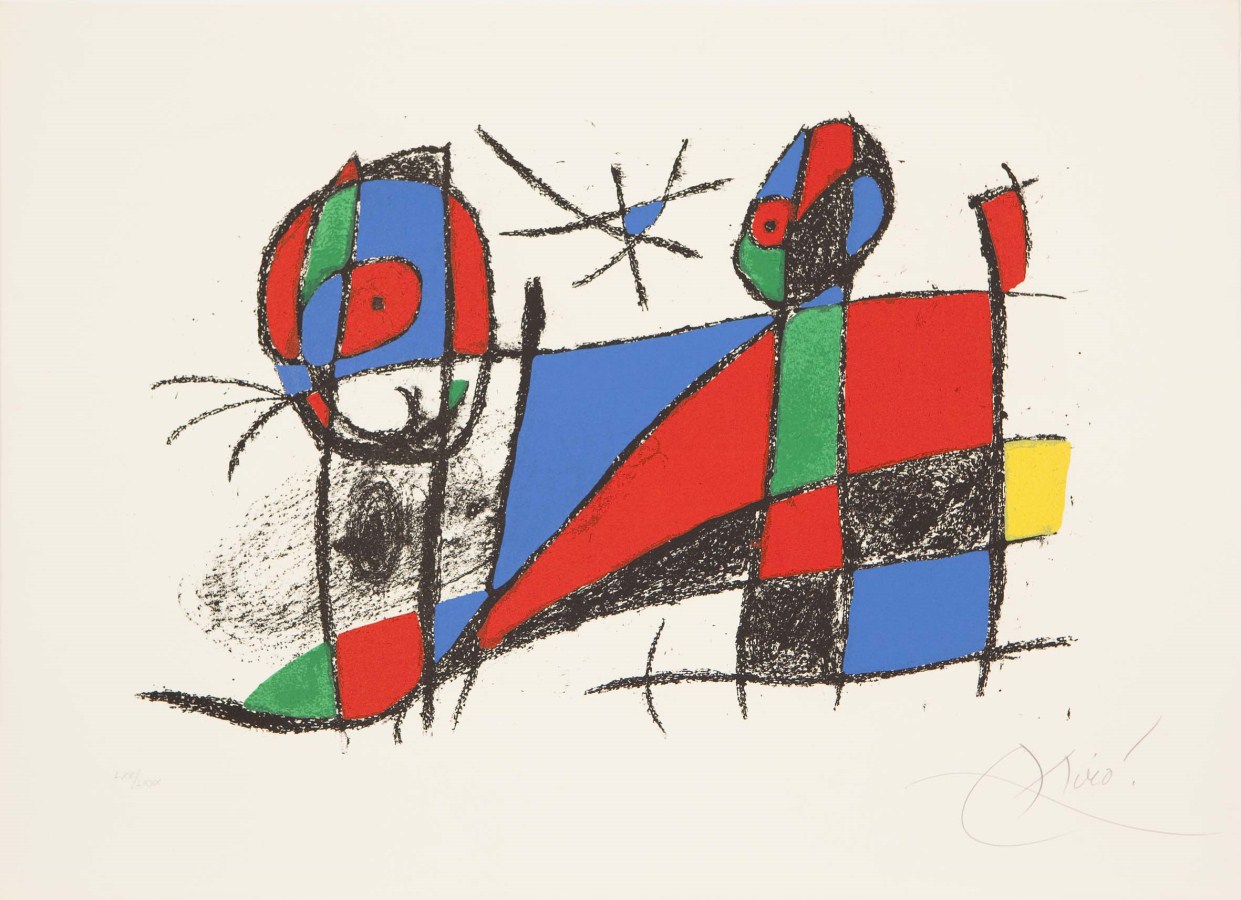 JOAN MIRÓ
'Lithographe II'
Color lithograph on wove paper by Arches
1975
size 45 x 62 cm
Edition 80
signed and numbered
Maeght Éditeur, Paris. printed by Arte Adrien Maeght,
Mourlot 1042
SOLD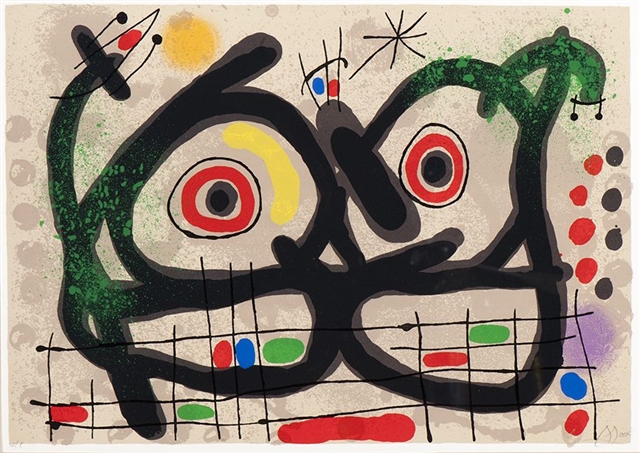 JOAN MIRÓ
'LEZARD AUX PLUMES D'OR'
Lithograph on handmade paper
1967
size 40 x 56 cm
Edition 170
signed and numbered
SOLD
JOAN MIRÓ (1893 - 1983)
ARTIST INFO
The famous, Spanish Catalan Painter and Printmaker Joan Miró i Ferrà was born in Barcelona in 1893 and died in Palma de Mallorca in 1983.
Joan Miró took part in art studies at the "La Llotja" academy in Barcelona at a young age – in addition to his accountant training.
Joan Miró was one of the most celebrated artists of the last century
In 1941 was Miró's first major museums retrospective at the Museum of Modern Art in New York.
He was an artist of international reach. Miró combined the abstract art with his own Surrealist fantasy.
The Joan Miró Foaundation in Barcelona has a great collection of 11.000 pieces – Paintings, Graphic Arts and other famous works by this artist.
Joan Miró – Biography
The Spanish-Catalan painter, graphic artist, sculptor and ceramicist Joan Miró is one of the leading artists, yes one of the main representatives of Surrealism. Miró is also known as the "pioneer of modernity". He was one of the pioneering artists into abstract expressionism. Miró was always looking for the – for him – correct formal language in art.
His Spanish artist colleague Pablo Picasso praised Joan Miró as his successor in surrealism.
Miro already took up the phases of Cubism, Dadaism and Fauvism in his early works. His art teacher Francesc Galí quickly discovered Miró's unique artistic talent. Joan Miró trained his eye on the work of Antoni Gaudi and on "Catalan Modernism".
Joan Miró was constantly on the lookout for new means of expression in his artistic work and found good ideas givers in Francis Picabia, who confronted him with Dadaism, and in Guillaume Apollinaire, who impressed Miro with the surrealism of his "pictorial poems".
The Catalan artist Joan Miró stayed frequently in Paris, where he made numerous artist friendships. His friendships with Pablo Picasso, Hans Arp, André Breton or Alexander Calder and Alberto Giacometti are legendary.
As an artist of Classical Modernism, Joan Miró was among the first to move away from representationalism
In his motifs, the imagination seems to triumph and symbols such as stars, moon, bird, number or woman are gaining in importance; they are simplified to symbolic elements and thereby acquire a magical, speaking character.
After 1945 Miró visited the U.S.A. several times and got to know artists such as Clement Greenberg and Jackson Pollock.
The graphic work of Joan Miró still gives evidence of the refreshing and sometimes colorful uniqueness in his artistic work. In his imaginative compositions, Miró also visualized the sounds of the music, for example, and in some works suggests the calligraphy of the Asian region.
Joan Miró is exhibited as an artist in international collections and museums to this day.
Galerie Jeanne is showing the following hand-signed and numbered original graphics by Joan Miro in downtown Munich (the gallery is only 300 meters from Marienplatz) – and is offering these works of art by Joan Miró for sale:
JOAN MIRO, 'Lithographe II',Color lithograph on wove paper by Arches  from 1975
JOAN MIRO, La Spirale, from Miranda la Spirale, etching and aquatint, from 1979
JOAN MIRO, 'LEZARD AUX PLUMES D'OR ', lithograph on laid paper, from 1967
JOAN MIRO, 'Colombine effachourée', lithograph on laid paper, 1980
JOAN MIRO, 'Nid d'alouettes', color lithograph aquatint on vellum Arches paper, 1977
… other positions on request
Exhibitions in international museums and large collections
(in selection):
1918 – first solo exhibition in Barcelona
….
1990: Joan Miró – sculptures, Kunsthalle Munich
2008/09: Joan Miró: Painting and Anti-Painting, Museum of Modern Art, in New York
2009: Joan Miró – Dupin. Art i poesia, Fundació Joan Miró, in Barcelona
2010: Joan Miró – The color of his dreams, Pablo Picasso graphic museum, in Münster
2010: Joan Miró. The colors of poetry, Museum Frieder Burda, in Baden-Baden
2011: Joan Miró, Tate Modern, London
2012: Joan Miró – Exquisite Corpses. Drawing and Disfiguration, Museum of Modern Art, in New York
2013/14: Joan Miró. Surrealism and the object, Center Georges Pompidou, in Paris
2014/15: Joan Miró. From earth to heaven, Albertina, in Vienna
13.05.-13.11.2022 Joan Miró – magic of signs – Stadtmuseum Stockach (district of Konstanz) – 80 drawings, lithographs, etchings and tapestries
For further informations and works by Joan Miró or if you have any questions please do not hesitate to contact us.
Please use our Contact Form  or  call us  +49 (0)179 5233905 
Adress: GALERIE JEANNE – Graphik & Dessins, Prannerstrasse 5 (back side: Hotel Bayerischer Hof), 80333 Munich – GERMANY