GALLERY JEANNE - prints and paperworks – Munich - Germany
original fine art prints & paperworks of the 20th century and contemporary art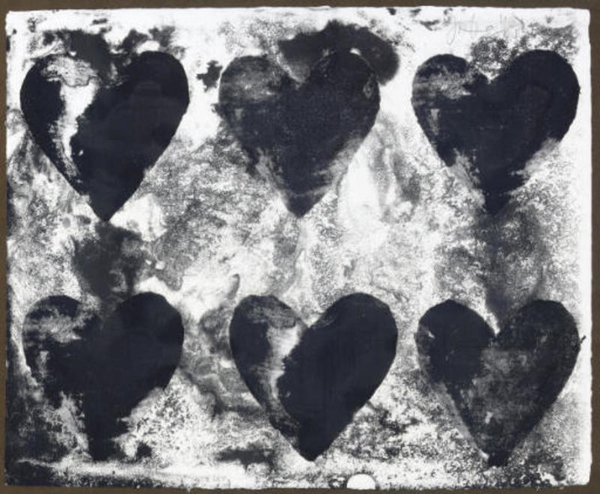 Jim Dine
Dutch Hearts, 1970
Lithography and Collage on Hodgkins Paper
size: 41.9 × 50.8 cm
Edition 85
Signed by the artist and numbered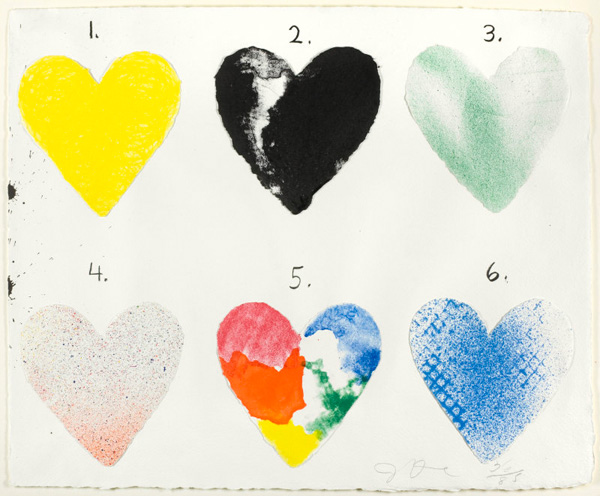 Jim Dine
Dutch Hearts, 1970
Lithography and Collage on Hodgkins Paper
size:  41.9 × 50.8 cm
editon 85
Signed by the artist and numbered
JIM DINE (* 1935)
ARTIST INFO
Jim Dine (* 16. Juni 1935 in Cincinnati, Ohio)
Jim Dine is an American pop artist. Every heart that he painted is different and there is a similar sense of love in his "hearts"-works – his popular Series of Hearts is a powerful symbol of his own life.
Collectors can find Jim Dine's work at Galerie Jeanne in Munich's city center.
The American pop artist Jim Dine enrolled in art studies at the Art Academy of Cincinnati while still in high school. He studied at the School for the Museum of Fine Arts (Boston) and at Ohio State University. After studying from 1953 to 1958, Dine went to New York, where he exhibited and organized happenings with Claes Oldenburg, Marc Ratliff and Tom Wesselmann. Jim Dine has held numerous guest professorships since the 1960s.
The American pop artist Jim Dine underscores his works of painting, sculpture and graphics with poetry. He devotes himself to photography and stage design.
Coming from the pop scene, Jim Dine creates his own view of art and finds a metaphorical level that brings his works closer to the Abstract Expressionists.
Artistic work phases determine his art
A well-known cycle of works are his hearts, which, shaped by Jim Dine's self-reflection, pose the question of the meaning of being human.
Jim Dine lives and works in New York and London.
Among Jim Dine's many exhibitions, we would like to particularly emphasize his participation in the "documenta" in Kassel – 1968: 4th documenta and 1977: documenta 6. It is the world's most important event in the series of exhibitions on contemporary art. Equally interesting in the cycle of contemporary art exhibitions is the Venice Biennale, which Jim Dine attended in 1978. Among the solo exhibitions are "Walldrawing" at the Kunstverein Ludwigsburg (1994) and "Jim Dine – My Tools" at the SK Stiftung Kultur in Cologne (2014). Probably the most important exhibition on graphics under the title "Jim Dine. About the Love of Printing. Graphic 1960-2015″ was shown from 2015-2916 at the Museum Folkwang in Essen.
For a deeper understanding of the work of the artist Jim Dine, we would like to recommend David Shapiro's book "Jim Dine, paint what you are" (Stuttgart 1984).
Works by Jim Dine in museums worldwide (selection)
Folkwang Museum, Essen
Musée National d'Art Moderne, Center Pompidou, Paris
Brooklyn Museum, Brooklyn
Cincinnati Art Museum, Cincinnati
Cleveland Museum of Art, Cleveland
Fogg Art Museum, Harvard University, Cambridge
Hirshhorn Museum and Sculpture Garden, Washington, DC
Indianapolis Museum of Art, Indianapolis
Israel Museum, Jerusalem
Metropolitan Museum of Art, New York
Minneapolis Institute of Arts, Minneapolis
Museum of Contemporary Art, Chicago
Museum of Fine Arts, Boston
Museum of Modern Art, New York
Tokyo Metropolitan Art Museum, Tokyo
Yale University Art Gallery, New Haven, CT
National Gallery of Art, Washington, D.C.
Solomon R Guggenheim Museum, New York
Stedelijk Museum, Amsterdam
Tate Gallery, London
Whitney Museum of American Art, New York
…
…
2908 characters, H.W.
For further information or if you have any questions please do not hesitate to contact us.
Please use our contact form below, call us  +49 (0)179 5233905 
Adress: GALERIE JEANNE – Graphik & Dessins, Prannerstrasse 5 (back side: Hotel Bayerischer Hof), 80333 Munich – GERMANY