GALLERY JEANNE - prints and paperworks – Munich - Germany
original fine art prints & paperworks of the 20th century and contemporary art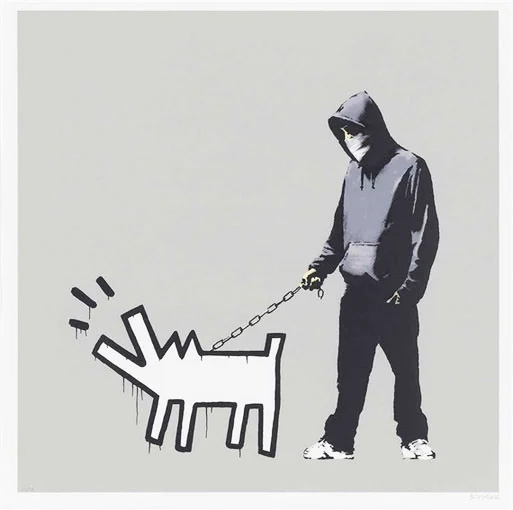 BANKSY
'Choose your Weapon', Grey – Queue Jumper
silk screen
2010
size: 70 x 70 cm
Edition 58
Signed by the artist and numbered
SOLD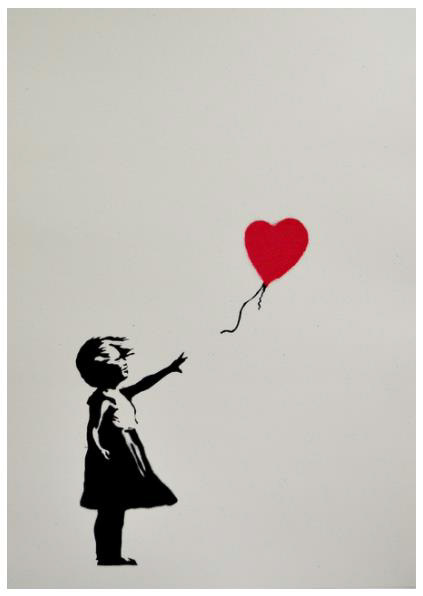 BANKSY
'Girl with Balloon'
silk screen
2004
size: 70 x 50 cm
edition 150
Signed by the artist and numbered
SOLD
BANKSY (* 1974)
ARTIST INFO
Banksy, the pseudonymous for an England-based street artist
One assumes that the street artist with the pseudonym Banksy is born in 1973/74 in Bristol, England. In the 1990th he moved to London.
The Pseudonym Banksy is still a pussling one. Who is this artist and to which artist does this street art point out? In 2021 important exhibitions have been dedicated to Banksy's work. Exhibitions places were Munich, Berlin and Heidelberg (Germany).
At a time in which the work of many artists is defined by the name of the artists, the "Phantom of the art world" Banksy, placed at the heart of his artistic creation only his unique artworks.
The Artist Banksy shows, what the art business is all about: He is concerned with the artwork of its days! Absolutely contemporary!
The artist likes to draw attention to one current crisis or is focusing on current social issues that may interest for the societal cooperation. Current topics stay focussed on what really matters and an encrypted message was visualised in symbolic motives.
The artist-icon Banksy started as a graffiti sprayer in Bristol. He became a "Master in Street-Art" and reconquered the international arena ot the arts market.
Graffiti-Icon Banksy
His artistic activity in museums and collections worldwide were organised by the artist himself and in secret moves. For Example in the Brooklyn Museum, in the American Museum of Natural History, in the New Yorker Museum of Modern Art, in the London Tate Modern or in the Metropolitan Museum of Art.
Since 1999 Banksy has organized exhibion in:
2000 in Bristol "Severnshed"
2003 in London "Turf-War-Ausstellung"
2006 in Los Angeles "Barely Legal"
2009 in Bristol "Banksy vs. Bristol Museum"
In the art gallery "Galerie Jeanne" in the City of Munich (Germany) collectors will find famous artworks on paper by the mysterious street artist Banksy as signed and numbered editions.
(1895 Zeichen, H.W.)
For further information or if you have any questions please do not hesitate to contact us.
Please use our contact form below, call us  +49 (0)179 5233905 
Adress: GALERIE JEANNE – Graphik & Dessins, Prannerstrasse 5 (back side: Hotel Bayerischer Hof), 80333 Munich – GERMANY