GALLERY JEANNE - prints and paperworks – Munich - Germany
original fine art prints & paperworks of the 20th century and contemporary art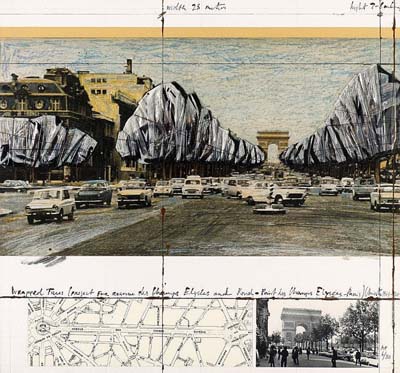 Christo
'Wrapped Trees, Project for the Avenue des Champs-Elysées, Paris'
Color lithography and Collage with foil, wax crayon, yarn, city map,
photography, transparent tape strip on cardboard
1992
size 70 x 74,5 cm
edition 100 + 30 AP (this is AP 6/30)
signed, dated '1969-90' and numbered
SOLD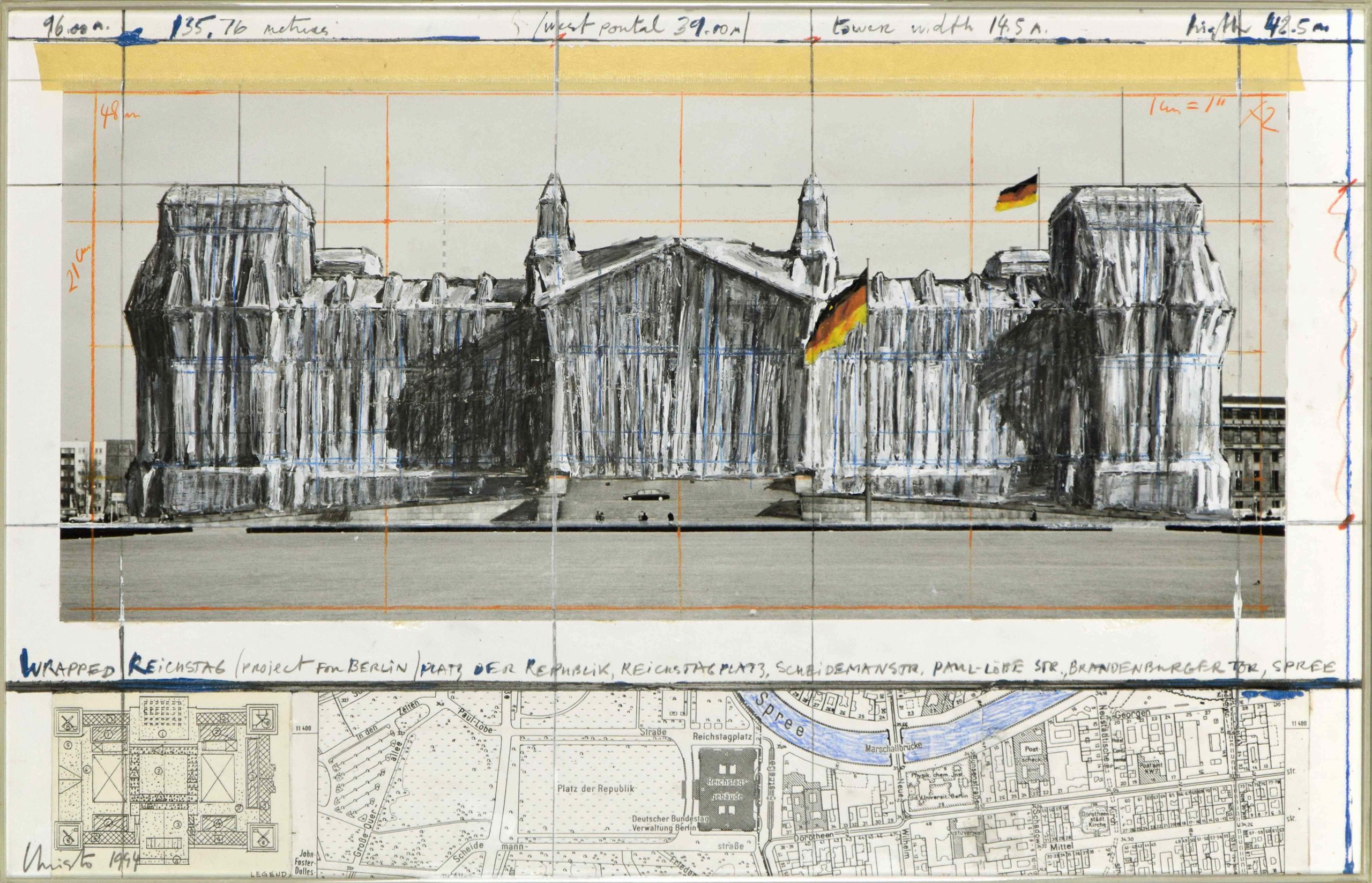 Christo
Wrapped Reichstag (Project for Berlin)
acrylic, wax chalk, coloured pencils and pencil with a Photography by Wolfgang Volz
and a printed city map, collage on on cardboard
size: 36,3 x 56,6 cm
Signed and dated below right, entitled and designate with tecknical data,
signed and dated on the backside
SOLD
CHRISTO (1935 Grabrowo, Bulgarien - 2020 NY, U.S.A.)
ARTIST INFO
The "Verhüllungskünstler" Christo
The Reichstag was enveloped for one week during the summer of 1995 by the wrap artist Christo; this wrapping became Europe's biggest art event.
The "concealment artist" Christo as a representative of "Land Art"
Christo has had a decisive influence on contemporary art through his monumental, temporary installations, such as the wrapping of the Reichstag in Berlin.
The Arc de Triomphe (built between 1806 and 1836)
… was covered in 2021 according to Christo's plans. It was presented as a work of art in the heart of Paris from September 18th to October 3rd, 2021. The idea of ​​the artist couple Christo and Jeanne-Claude, who met in Paris, was implemented posthumously after 60 years, as the idea for this work dates back to 1961.
Christo and Jeanne-Claude
The artist Christo and his wife Jeanne-Claude (1935-2009) – as an artist couple – created works that shaped artistic perception and seeing in their time and to this day. They were artists of the so-called "Land Art".
When the Reichstag was wrapped in 1995, Christo and Jeanne-Claude created a gigantic-looking art object with the completely wrapped building, an open-air sculpture that drew crowds to Berlin.
From the idea to the first drafts, to models, drawings, approvals and final realization, years, if not decades, passed
In order to realize projects, the sale of project drawings, collages, models and editions was an important step towards the finished work. Without any sponsors or even public funding, Christo and Jeanne-Claude's works turned public space into a showroom for their art.
Christo biographer David Bourdon called his book "revealing through concealment" in which he paid tribute to the "master of packaging". However, Christo always rejected the term "packaging artist"; he described himself as a "wrapping artist" who uses wrapping to focus on what is hidden and thereby make it visible.
In 2020, Christo died in New York City, where he had actually planned his last work, "Arc de Triomph Wrapped," to be realized in April 2020 in Paris.
Due to the corona pandemic, the wrapping of the Arc de Triomphe was postponed again:
In September 2021  "L'Arc de Triomphe, Wrapped" by Christo and Jeanne-Claude was to be realized in Paris as a temporary work of art
By the way, Christo had already developed the project in 1962. After 60 years, what was previously only developed in drawings, numerous studies, collages and models is now becoming reality. The Center des Monuments Nationaux has granted permission and the team of Christo and Jeanne-Claude will cover the most important monument in France according to the will of the artist, implementing the IDEA and VISION of the artist Christo.
Works by Christo & Jeanne-Claude can be found in collections and museums worldwide
Every purchase of a work of art is a further step towards the realization of works of art in famous, national and monumental places in public space. Collectors thus become direct supporters of artists and the arts.
For further information or if you have any questions please do not hesitate to contact us.
Please use our contact form below, call us  +49 (0)179 5233905 
Adress: GALERIE JEANNE – Graphik & Dessins, Prannerstrasse 5 (back side: Hotel Bayerischer Hof), 80333 Munich – GERMANY