GALERIE JEANNE - Graphik & Dessins – München
Graphik & Papierarbeiten des 20. Jahrhunderts und Contemporary Art
JEAN-MICHEL BASQUIAT (1960 – 1988)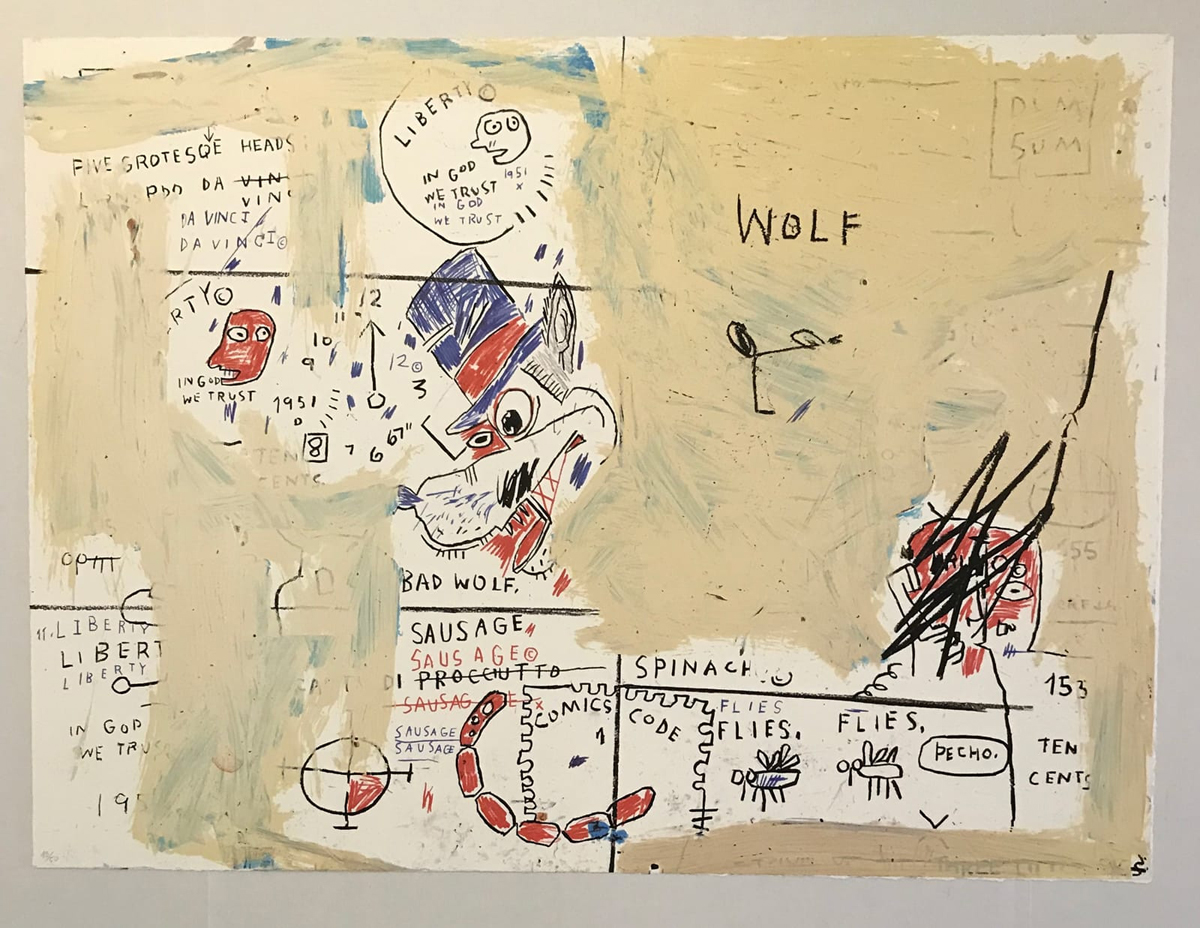 Jean-Michel Basquiat
'

Wolf Sausage'
Screenprint on Somerset Satin
1982 / 83-2019
Edition 34/50
56 x 76 cm / framed approx. 100 x 120 cm
Numbered and signed on the reverse by Lisane Basquiat and Jeanine Herivaux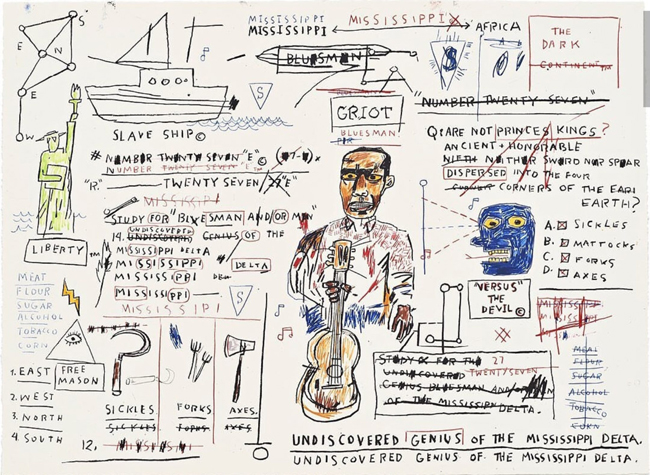 Jean-Michel Basquiat
'

Undiscovered Genius
Screenprint on Somerset Satin
1982 / 83-2019
Edition  34/50
56 x 76 cm / framed approx. 100 x 120 cm
Numbered and signed on the reverse by Lisane Basquiat and Jeanine Herivaux
SOLD OUT
Jean-Michel Basquiat (1960 New York City - 1988 New York City)
ARTIST INFO
The American artist Jean-Michel Basquiat was the first African American artist whose paintings and drawings were accepted by the white art world of his time.
Jean-Michel Basquiat's works of art are very popular with international art collectors. They are counted among the most important works of art of the 20th century.
The Afro-American artist Jean-Michel Basquiat was one of the first artists whose paintings and drawings were accepted early on in the "white art world".
Basquiat had American role models like Andy Warhol, Robert Rauschenberg, Jackson Pollock or Roy Lichtenstein among others he also studied Henri Matisse and Pablo Picasso.
Jean-Michel Basquiat's works, which, due to their artistic immediacy, take place directly on the image carrier, are assigned to Neo-Expressionism through this way of working. They contain everything that Basquiat found in daily life and that he could quote in his works. We find signs, words, numbers, symbols, sketches, logos, map fragments and pictograms or – as the artist Basquiat himself always emphasized – "facts"!
AND: Basquiat's earlier pictorial ideas always flow back into his work – quotations from his own works appear. Every work of art by Jean-Michel Basquiat that you find in the Galerie Jeanne in downtown Munich always contains an approach from earlier works. The early collaboration with Andy Warhol is evident in many works of art.
Built up in layers, everything could remain with Basquiat's works of art, or everything could be painted over again up to the fragmentary quotation.
In the history of art, viewers felt reminded of African folk art. Indeed, the artist Jean-Michel Basquiat brings together artifacts from his own lifetime in his works.
Jean-Michel Basquiat himself felt like "part of graffiti art"
The attempt to classify him as a "graffiti artist" was not enough. Jean-Michel Basquiat himself felt himself to be "part of graffiti art", which was typical of his time. The artist Basquiat's self-image was not that of a painter, he saw himself as a "writer" and his works as notes of what he himself experienced, found and processed or of what was questioned. The art historiography of the eighties understood his art as graffiti art or neo-expressionism, which looks past the strongly content-bound and very meaningful, almost speaking works of the artist.
Basquiat was ahead of his time in artistic creation: everything he interpreted pictorially was the reality that he experienced and transferred to his image carrier.
Exhibitions of the works of Jean-Michel Basquiat in exhibitions and museums (a selection)
1982 Transavanguardia Italia – America, Galleria Cicica, Modena
1982 Still Modern After All These Years, Chrysler Museum, Norfolk, Virginia
1982 New York Now, Kestnergesellschaft Hannover
1984 New Art, Musée d'Art Contemporain, Montréal
1984 Free Figuration France / USA Musée d'art modern de la Ville de Paris
1985 Boijmans Van Beuningen Museum Rotterdam
2003 50th International Art Exhibition Venice Biennale / Biennale di Venezia – La Biennale di Venezia, Venice
2005 Basquiat – Brooklyn Museum
2007 From Klimt to Krystufek – Museum der Moderne Salzburg, Rupertinum
2012 Ménage à trois – Art and Exhibition Hall of the Federal Republic of Germany, Bonn
2013 Warhol / Basquiat – Bank Austria Kunstforum Wien, Vienna
2017/2018 Boom for Real – Barbican Center, London, and Schirn Kunsthalle Frankfurt am Main
2018/2019 Schiele / Basquiat – Fondation Louis Vuitton, Paris
2019 Basquiat – The Artist and his New York Scene – Museum im Glaspalast Schunck, Heerlen
For further information or if you have any questions please do not hesitate to contact us.
Please use our contact form below, call us  +49 (0)179 5233905 
Adress: GALERIE JEANNE – Graphik & Dessins, Prannerstrasse 5 (back side: Hotel Bayerischer Hof), 80333 Munich – GERMANY